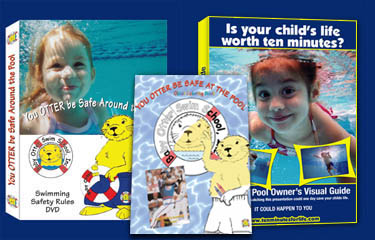 Is your child's life worth ten minutes?
This 10-minute DVD provides parents with the layers of protection that must be in place around the house and pool/water. From adding a locking fence around your in-ground pool to not answering the door or phone while you child is near the pool or bathtub, this straight-forward DVD is a must have for all parents.
You OTTER be Safe around the Pool
This DVD is designed especially for kids, teaching them swimming safety rules from the Baby Otter Swim School's Baby Otter. The DVD contains 10 safety rules that all kids must follow when swimming or playing by the pool.
This package also includes a Baby Otter coloring book. For more details, visit www.BabyOtterSwimSchool.com. If you are a member of the media and would like to request a sample, please contact Michelle Tennant and 828-749-3200 or michelle@tennant.org.